Anatomy of a Boyer's Teammate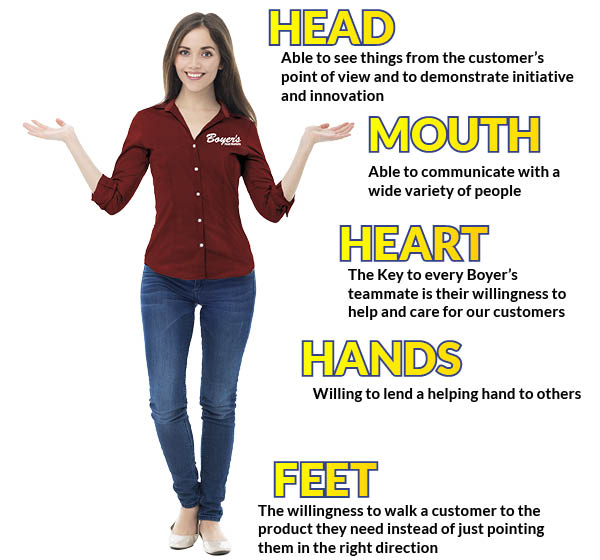 Anatomy of a Boyer's Teammate Full Text
---
Interested in Joining the Boyer's Team?
If you are afraid to talk to people, then Boyer's is not the place for you…Our Red Shirt Service commitment means our customers get the attention that they deserve the minute they walk into our store. If you genuinely like people, are willing to use productive work methods, and exercise sound judgment, then we want to talk to you! Ability to work flexible hours, including evenings and weekends, is required and prior retail experience is preferred but not required.
We will contact you if your skills meet our needs.
Boyer's currently has the following job openings:
*Please Note - All Deli Personnel Must Be At Least 18 Years Of Age
ALL STORES
Tamaqua
PT Grocery - morning and afternoon shifts and weekends required

PT Deli Clerk* - all shifts and weekends required

FT Deli Manager - experience required

PT Produce Clerk - day shift and weekends required

PT Bakery Clerk - all shifts weekends included

PT Cashier
McAdoo
PT Bakery Clerks

PT Deli Clerks
Schuylkill Haven
Bernville
PT Service Center Cashier w/ Lottery Experience - all shifts, weekends required

PT Evening Grocery Clerk - grocery clerk experience required, evening shifts
Berwick
Orwigsburg
PT Deli Clerks* - all shifts included

PT Bakery Clerk - evenings and weekends required
Pottsville
FT Bakery Clerk

PT Produce Clerk
Mt. Carmel
PT Service Center Cashier w/ Lottery Experience - evenings and weekends required

PT Deli Clerk* - evenings and weekends required

PT Scan DSD - must be able to work overnight the last Saturday of month and most all Sunday Mornings
Lansford
PT Deli Clerk* - all shifts and weekends required

PT Scan DSD - all shifts and weekends required
Lykens
Hazleton
FT Bakery Clerk - Cake Decorator experience required - day shift weekends included

PT Deli Clerks* - all shifts and weekends included
Fleetwood
FT Evening Manager - must have entry level experience

FT Produce Clerk/Manager Trainee

PT Service Center Cashier w/ Lottery Experience - evenings and weekends required
all positions are part time and all shifts unless otherwise noted; positions are updated periodically and available openings may change before website can be updated